Phoenix Centre for Autism Classes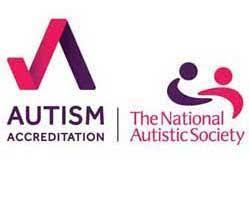 The Phoenix Centre
Class One (Unicorn class)
All About Class One
Class 1 is made up of the Reception and Year 1 aged pupils of the Phoenix Centre. We currently have 10 pupils who are led by a staff team of 1 teacher and 4 teaching assistants.
Our classroom is designed for the children to be independent in selecting resources, with space for quiet and shared sessions, as well as access to a small outdoor area.
We are a very friendly and outgoing class with a keen interest in exploratory play and every day brings a fresh challenge which we can't wait to meet.
Life Skills
Developing life skills is a key aspect of Class 1. The children are encouraged to be independent in their own care, as well as that of their peers and environment. We try to introduce the children to or replicate real-life situations so as to build their understanding of and confidence in appropriate behaviour.
Our Learning
Every term our learning follows a new theme and we closely link these topics within all aspects of the curriculum.
Christmas
Every year Cage Green presents Christmas productions and our pupils were thrilled to be joining their Main school counterparts in 2 wonderful shows. Reception showed off their skills in 'The Sleepy Shepherd' and Year 1 were involved with a brilliant display of 'It's a Baby'. In amongst busy rehearsal schedules, the children were treated to a day visiting Santa in his grotto at the Bluewater Winter Wonderland, where they each received a gift and celebrated the Christmas season with lunch at McDonalds. A great time was had by all.
Term 1 'Treasure'
Term 1 was our 'Treasure' focus and the children loved dressing up as pirates to hunt for buried gems. We explored numbers and counting through coins, fine motor drawing on treasure maps, and learnt to play team games like hide-and-seek. At the end of the term the children followed a magical map to the local bakery where they had to each seek out a personalised 'gingerbread pirate' prize. The elaborate costumes were great entertainment to the locals who waved us on our merry way.
Term 2 'Patterns'
Term 2 was adorned by 'Patterns' and our learning began with grinning pumpkins and the sparkle of fireworks night. The children spent the term creating artwork with shapes and colour and were particularly entertained by a focus on the book 'Pants' by Giles Andreae and Nick Sharratt. We explored animal print and the beauty of colour and patchwork in the 'Elmer' series.
Term 3 'All About Me'
Term 3 has surrounded the children learning about themselves, their feelings, and their place in their communities - home, school and the locality. We have discussed families in books and loved acting out stories such as 'Goldilocks and the Three Bears', 'The Three Little Pigs' and 'The Three Billy Goats Gruff'. Basic emotions have been a focal point of all learning and the children have been encouraged to consider the emotional effect of their actions on themselves and others. We have visited the local pet shops to show one another what pets we have at home and to acquire items to make our class guinea pigs even happier.
The Timetable
The Class 1 timetable encompasses all 6 areas of the Early Years Foundation Stage Curriculum and encourages the children to learn through play and exploration. We are always active and hands-on with our activities, enjoying sharing resources together which helps build friendships as well as knowledge. As often as possible, we like to walk to the local shops and library. Access to the community is vital in our development of the children's life skills and we are always keen to encourage the children themselves to ask when we need help when shopping or would like to borrow books to read in class.
Class 2 (Griffin class)
All about Class 2
In Class 2 (Griffin) we follow the National Curriculum. We are a mixed year group including years 2 and 3. . We provide a creative curriculum approach to learning and try to make learning practical and fun.
Term 1
Our topicin term 1 was the 'Circus'. The children had great fun at our Cage Green Circus Day. All children got involved dressing up as different circus acts. We enjoyed practising our circus skills such as juggling, trampolining, spinning plates and being circus animals.
Within this topic the children learnt about the different acts that are performed, different circus animals and about the different places the circus may visit.
Within the history element the children learnt about The Colosseum in Rome and the Roman Empire. The children went to Tunbridge Wells Museum and were able to handle Roman artefacts.
Term 2
In term 2 our topic was Transport. Class 2 and 3 combined to have an Airport Day. We pretended to go on holiday to Ibiza, we bought our luggage to school, experienced passport control and even tried flying a pretend plane. The children enjoyed spending time relaxing at our imaginative seaside!
Term 3
In term 3 Class 2 covered the topic Toys. The children enjoyed sharing their favourite toys they received at Christmas and bringing their favourite toy into school for the day.
During the term the children have been learning about how toys work, what they are made from and what countries they were made.
In Art and DT the children have especially enjoyed making their own sock puppets, board games as well as designing their own LEGO characters.
Toy Workshop Day
Class 2 had great fun on their toy workshop day. They had an opportunity to play with new and old toys from Maidstone Museum. They were allowed to handle some artefacts that were hundreds of years old. They enjoyed learning about how the toys were made and how they worked.
Term 4
This term Class 2 have been learning about Clothes and Dressing Up. We had a dressing up day exploring different outfits we wear. We have researched different outfits people wear to work, sport and for leisure. The children had great fun trying on different outfits. The children have been learning what people wear in different countries, what we wear for protection as well as seasonal clothing.
Art based on Andy Goldsworthy
In Art we have been studing the artist Andy Goldsworthy. The children made their own pictures using natural materials found in our outside environment. We have also been tie dying materials.
Fire Engine visits Cage Green
Tonbridge Fire Station visited us and we tried on their uniforms and went on the Fire Engine.
Term 5
Our topic for term 5 will be Night and Day.
Kinaesthetic Learning
In Class 2 we endeavour to make learning practical. The children enjoy using their hands and learning in a fun way.
Class 3 (Dragon class)
Class 3 had an exciting P.E lesson using a variety of apparatus in the hall.

All class 3 children are very proud of the progress they are making in maths. They have been working on a range of written methods for addition. Here they are demonstrating how to use partitioning.
In our term 3 our active topic was 'The Active Planet'